AAA CERTIFICATE OF CREDITWORTHINESS EXCELLENCE
For several years now, Karin Komerc MD has been the AAA Certificate of Creditworthiness Excellence holder. Since 2019, as a confirmation of the multi-year assessment of performance, liquidity, business responsibility, and financial ability, Karin Komerc has received the GOLD Certificate of Creditworthiness Excellence as the highest level of success of a company.
The analytical method of calculating prudential excellence is unique for all European markets and is based on business entities' official annual financial statements. The Certificate of Creditworthiness is a standard that defines the quality of business and is an internationally recognized label of the economic quality of a company.
This recognition is a confirmation of many years of systematic and quality work of our company and places Karin Komerc MD at the top of Serbia's economy.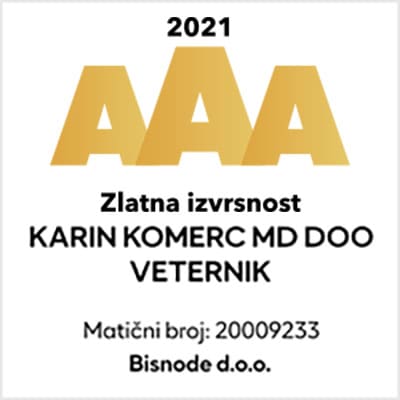 QUALITY POLICY, ENVIRONMENTAL PROTECTION, AND OCCUPATIONAL HEALTH AND SAFETY
The management of "KARIN KOMERC MD" DOO and all employees are committed to continuous improvement of the Integrated Management System following the requirements of the standards ISO 9001: 2015, ISO 14001: 2015, and OHSAS 45001: 2018.
We view the quality of the work process as the basis of competitiveness and success in the market in the field of road transport, river transport, exploitation of sand and gravel, civil engineering, building construction, production, and sale of construction materials.
Our policies and goals are:
Meeting the requirements of clients and end-users for a high level of service provided within the agreed time;

Compliance with legal regulations and fulfillment of obligations towards the state;

Developing long-term and fair relationships with suppliers;

Ensuring continuous technical and technological development of the work process;

Meeting employee expectations;

Motivating employees to actively participate in improving the quality of the work process.

Implementation of laws and regulations in the field of environmental protection and safety and health at work,

Improving the organization of work to rationally use raw materials and prevent accidents, incidents at work,

Reduction of total waste as well as disposal of waste, which cannot be processed in a way that does not endanger the environment,

Continuous improvement of environmental performance,

Identifying, assessing, and controlling risks in known causes of injuries and diseases related to work processes and the environment,

Continuous training of employees in the field of environmental protection and safety and health at work to acquire new knowledge and raise awareness of all employees about the importance of its preservation,

Establishing effective communication with all stakeholders and other relevant organizations to better exchange information,

Make our integrated management system policy available to the public.
By achieving the set goals, we are constantly improving the work efficiency and financial potential of "KARIN KOMERC MD" DOO in the interest of the owners, all employees, and the community.
CATALOG
Please use side arrows or taskbar below in order to view catalog